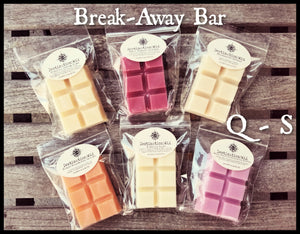 Break-Away Bar: Q - S (RTS)
Each Break-Away Bar is approximately 2.6 ounces finished weight wax.
One scent per Bar. Each Bar can easily be broken up into six cubes. Color will vary and may include a light dusting of fine glitter. Packaged in a zip-lock polypropylene bag.
Limited quantity available.


*** For Discontinued and Limited Edition Scents, check the Limited Editions page for remaining availability.
Destination:WAX   Wax Melts  Scent List  (Q - S):
--  Scent name and general description; not all ingredients or fragrance notes are listed. 
Quickie Wedding  --  Fresh strawberries, Strawberry Seeds, and marshmallow fluff.


Rainforest Sugarcane  --  Fresh citrus, raw sugarcane, vanilla orchid, and rain. BBW type.
Raspberries & Sugar  --  Ripe, red raspberries and strawberries, sweetened with sugar.
Raspberry Peach Shortbread  --  Sugared shortbread bars layered with ripe raspberries, sliced peaches, and peach preserves.  Discontinued.
Raspberry Sangria  --  A sweet and tart red raspberry and citrus sangria. Discontinued.
Red Currant  --  Another great sweet and tart scent…red currants, raspberries, geranium, cassis, musk. Similar to Votivo "Red Currant".
Red Currant Rhubarb  -- Our Red Currant tarted up with grapefruit, pomegranate, and rhubarb. A touch of floral rounds it out. Discontinued.
Red Pear  --  Juicy ripe red pear.  Richer than Bartlett Pear and Yellow Pear. Discontinued.
Redwood Cedar  --  A warm forest scent of red cedar, sandalwood, and green fern.
Rocky Mountain Pine   --  Balsam fir, Colorado white fir, blue spruce, red cedar, and berries. Discontinued.
Rosé All Day  --  A sweet fruit-floral: sugared raspberries, lemon zest,  mandarin, coconut water, and sweet peas.  Limited Edition.
Rose Bouquet  --  A fragrant bouquet of velvety red roses.
Rose Geranium  --  A delightfully fresh, sweet, rose scent with leafy green undertones. Nearly identical to Rose Geranium Essential Oil.
Rose of the Cimarron  --  Leather, red roses, vanilla orchid, and sandalwood.
Rose Petal Jam  --  Sweet, rich, jammy conserve of  strawberry, citrus, and velvety rose petals. Similar to a "Lu$h" scent. 
Rosewater Lemonade  --  A fanciful blend of rosewater and sweet lemonade.
Rumor Has It  --  Amber, sandalwood, galbanum, balsam of Peru, and gorgeous smoky vanilla.
Sage, Sweetgrass, & Cedar  --  Russian sage, fir needle, cedarwood, cedarleaf, and hay.
Salty Sea Air  --  Salty sea spray, seaweed, driftwood, and a bit of ozone and water lily.
Santo Rosa  --  Palo Santo and creamy white roses.
Scottish Hearth  --  Old worlde hearth fire of fresh applewood boughs tossed onto burning logs of white birch. Sweeter than Winter's Eve. On the Discontinued list...could be temporary or permanent. Our supplier is out of stock and has not promised that it will be back; hopefully will return in 2024.
Scottish Shortbread  --  Buttery, sugar vanilla shortbread.
Sea Island Grapefruit  --  Compare to the Votivo classic. Crisp, sweet grapefruit with a hint of white orchids.
Sea Salt & Cocoa Truffle  --  Dark cocoa truffles sprinkled with sea salt.
Sea Salt & Yuzu  --  Yuzu, satsuma, apricot, lotus flower, aloe, and sea salt.
Shaving Cream  -- Fresh & clean shaving cream scent with almost no cologne. Great blender!
Sherlock  --  A  warm and woodsy pipe tobacco. Heavy on the tobacco.
Shop Around  --  Parma violets and creamy fruit candy with a hint of cinnamon. This is Ghostess's little sister!

Silken Oud  --  Oud wood blended with bergamot, incense, birch wood, and a touch of rose. Limited Edition.
Skittles  --  Skittles candy!
Smoked Vanilla --  Smoked Tahitian vanilla, sandalwood, leather, spices, and a shot of bourbon. Inspired by BBW.
Snow White  --  Crisp sweet apple, sweet neroli, a hint of floral, and hint of honey type sweetness.  A nod to to Lu$h.
Snowy Pine  --  Fir balsam, cypress, and some fresh apple.
Snuggle  --   Snuggle Fabric Softener type. Lily of the valley, violet, lavender, gardenia, amber, and fabric softener.
Southern Mint Tea  --  Iced black tea, lemon, sugar, peppermint, and spearmint.
Spearmint  --  Fresh spearmint with a touch of sweet peppermint.
Spiced Apples and Peaches – Fruity and lightly tart blend of red apples, peach nectar, cinnamon, and mulled spices.
Spiked Amber  --  Warm, rich, spicy: amber, sandalwood, galbanum, bergamot, vanilla, and a big spike of clove. 
Spiked Egg Nog  --  Vanilla egg nog spiked with rum, clove, cinnamon, ginger, & nutmeg – topped with whipped cream.
Spring Moss  --  Compare to Aveda "Sap Moss".  An invigorating, fresh and earthy herbal scent. Discontinued.
Stainless Steel  --  A clean and fresh musk with citrus, ozone, sea moss, and light floral notes.
Strawberry  --  Fresh, ripe strawberries.
Strawberry Berry Sauce  --  Fruity dessert sauce of strawberry, blackberry, raspberry, lychee, and sweet rambutan. Discontinued.

Strawberry Bourbon Vanilla  --  Sweet strawberry with a kick of Bourbon vanilla. Inspired by BBW.
Strawberry Crumble  --  Strawberries and acai berries baked in sugar with a light topping  of sugar cookie crumble.
Strawberry Jam  --  Wild strawberry jam.

Strawberry Lemonade Gelato  --  Frozen lemon, sugared strawberries, and vanilla cream. Discontinued.
Strawberry Seeds  --  Sweet and zesty strawberry.
Sugar Cane & Mint  --  Sugar crystals infused with fresh peppermint and spearmint leaves. Discontinued.
Sugar Cookie  --  Warm, freshly baked sugar cookie.
Sugar Vanilla Champagne  --  Effervescent champagne laced with sugared vanilla. Reformulated 4/22.
Sugared Amber & Plum  --  Ripe plum, sugared amber, citron, and cashmere musk.
Sugared Spruce  --  A sweet and fresh blend of blue spruce, sweet berries, balsam, cedar, and sugared vanilla. Discontinued.
Sugared Vanilla Shortbread  --  Vanilla shortbread cookies.
Sultana  --  Fruit-floral blend of bergamot, apricot, black currant, strawberry, rose, jasmine, and musk. Contains essential oils.  Compare to Lu$h.
Sultry Angel  --  Sugar cookie in perfume form. Truly sultry.
Summer Champagne  --  Fresh, fizzy champagne infused with sugared raspberries, Bartlett pear, & green apple.
Sun Drenched Apricot Rose  --  Sweet apricots, nectarine blossoms, roses, gardenias, and musk (YC type).
Sunny Sand Beach -- Warm beach breezes wafting over orange blossoms, lavender flowers, citrus, and suntan lotion. Compare to YC "Sun and Sand".
Sunshine Lolly  --  Sweet vanilla, fruity lollipops, and summer florals.
Suspicious Lies  --  Sensual blend of neroli, rose, rosewood, orange flower, and a hint of grapefruit. Inspired by Lu$h "Frozen". Discontinued.
Sweater Weather  --  BBW type… juniper berry, eucalyptus, sage, and lingering mint.

Swedish Dream Salt  --  Salty ocean breeze, cucumber, oakmoss, lavender, balsam, and lime.
Sweet & Creamy Lolly  --  Fruity, creamy, sweet lollipops with an elusive hint of cinnamon.
Sweet on Paris  --  Gourmand blend of blackberry, lemon, nectarine, vanilla macaron, and a hint of peony (BBW).
How to search the Scent List on your computer:  On the Scent List page, click "control+f" on a PC or "command+f" on a Mac. A search box will open at the bottom of the window. Type your search term in the box. Click "Highlight All".  Scroll down or click "enter" or "return" on your keyboard to jump from item to item. Specifics may be different for different browsers.
How to search the Scent List on your smartphone: Some browsers have a "Find in page" function in the page menu (an icon consisting of 3 vertical dots) which is often in the upper right corner. Tap "Find in page" and enter your search term. Specifics may be different for different browsers.