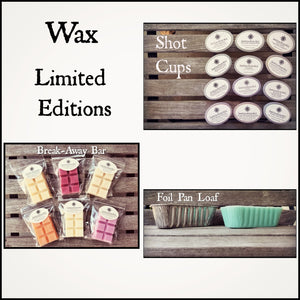 Limited Editions (RTS)
These are scents that are being discontinued or are here for a limited time!


Limited quantities available in various shapes.
Apple & Earl Grey -- 

 

 Crisp apples, dried pears, black tea, chamomile, spices, and bergamot. Discontinued.
Candy Cane Frost --  Sweet, creamy vanilla mint candies. Discontinued.
French Baguette 

 

--  Freshly baked and buttered French baguette.

 

Discontinued.

 

 
Frozen:Frozen  --  Frozen: Frozen is cold menthol plus essential oils of eucalyptus and peppermint. Discontinued.
Lime Sugar  --  Soft lime, anise, hazelnut, sugar, musk, and rose...similar to Pink Sugar but with lime instead of raspberry. Discontinued.
Pink Sand Beach  --  Similar to YC "Pink Sands".  Fruit, flowers, and a splash of coconut cream.

 

Discontinued.
Plum Tart  -- 

 

Warm baked tart with a jammy-rich filling of plums, oranges, cinnamon, and vanilla.

 

Discontinued.
Zalabia 

 

--  Libyan bread drizzled with clementine-scented honey. Discontinued.
Wine Cellar --

 

Pomegranate, black cherries, pink pepper, musk, saffron, and patchouli.  Slightly sweeter than BBW.

 

On the Discontinued list...could be temporary or permanent. Our supplier is out of stock and has not promised that it will be back; hopefully will return in 2024.
ZB Pumpkin --  Zucchini bread with sweet pumpkin and spices. Discontinued.
Shot Cups are approximately 1.5 ounces of finished weight wax.

Break-Away Bars are approximately 2.6 ounces of finished weight wax.

Foil Pans are approximately 11.75 ounces of finished weight wax.