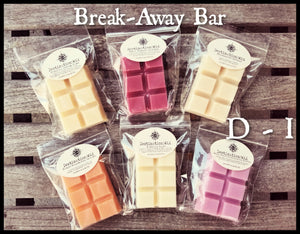 Break-Away Bar: D - I (RTS)
Each Break-Away Bar is approximately 2.6 ounces finished weight wax.
One scent per Bar. Each Bar can easily be broken up into six cubes. Color will vary and may include a light dusting of fine glitter. Packaged in a zip-lock polypropylene bag.
Limited quantity available.


*** For Discontinued and Limited Edition Scents, check the Limited Editions page for remaining availability.
Destination:WAX   Wax Melts  Scent List  (D - I):
--  Scent name and general description; not all ingredients or fragrance notes are listed.  --


Daisy  --  A sweet, fresh floral with a hint of light musk. 
Danish Butter Cookie  --  Buttery Danish sugar cookies...buttermilk, burnt sugar, caramel, and vanilla.
Day of the Dead  --   Neroli, lime, and frankincense…fruity and sugary.  Compare to Lu$h.
Desert Tumbleweed  --  Sage, sweetgrass, cedar, peppermint, spearmint, and vanilla sugar.
Dirt  --  Damp, freshly turned garden dirt.
Downy April Fresh  --  Laundry fresh out of the dryer, smelling of fabric softener & fresh flowers on a spring morning.
Downy Blue Ultra  --  A sweet laundry scent: flowers, fruit, citrus, fern, cedar, amber, musk.
Dragon Lily – Sweet, rich blend of Dragon's Blood and Lily of the Valley.

Dragon's Blood  --  Rich, aged patchouli with florals, citrus, and fruit. 


Earl Grey Tea  --  Black tea infused with bergamot oil.
Egyptian Dragon -- Exotic blend of Dragon's Blood and jasmine.
Egyptian Mystery  --  Dragon's Blood, myrrh, rose, jasmine, and lily of the valley. Limited Edition.
Elderflower  --  A clean, sweet, fresh wildflower.
Eucalyptus  --  Invigorating eucalyptus and menthol.  A bit earthier than Frozen:Frozen.
Eucalyptus & Peppermint  --  An uplifting blend of peppermint, eucalyptus, and cedar.
Eucalyptus & Spearmint  --  Cooling and fresh. Discontinued.
Eucalyptus Tea  --  Fresh eucalyptus, spearmint, and lemon (aromatherapy for focus BBW Type).
Fierce   --  Fierce cologne: woods, lemon, lime, lavender, musk (Abercrombie & Fitch type).
Fizzy Pop  --  Fizzy lemon/lime soda pop.  A great blender to add fizz, especially to fruit scents!
Flower Basket  --  A basket of just-picked fresh, fragrant spring flowers. Discontinued.
Frankincense  --  Sweet, earthy, and slightly effervescent:  frankincense, patchouli, and cedarwood. Contains essential oils.
Frasier Fir  --  Siberian Fir, cedarwood, and sandalwood. Thymes "Frasier Fir" type.
French Baguette  -- Freshly baked and buttered French baguette. Discontinued.
French Green Tea  --  A fresh blend of white flowers, bitter orange, lemon zest, and green tea leaves.
French Lime Blossom  --  This is also known as a Linden blossom.  A very fresh, spring floral. Similar to Jo Malone "French Lime Blossom" and L'Occitane "Tilleul". Discontinued.
Fresh Balsam  --  Balsam Fir, cedar, and eucalyptus. Similar to BBW.
Fresh Dirt & New-Mown Grass  --  Wonderful spring-fresh scent. Clean, freshly-dug dirt and clean, fresh-cut grass.
Fresh Laundry  --  Fresh cotton linens, right off the clothes line. No folding involved!
Fresh Lettuce  --  Crisp, watery, fresh  green scent.
Fresh Tide  --  Clothes freshly laundered with Tide Detergent!
Frosted Sugar Cookie  -- Frosted Sugar Cookie!
Frozen:Clementine  --  This is Frozen:Frozen combined with the juicy sweetness of clementine, orange, grapefruit, lemon, tangerine, and bergamot. Contains essential oils. Discontinue.
Frozen:Frozen  --  Frozen: Frozen is cold menthol plus essential oils of eucalyptus and peppermint. Discontinued.


Gain  --  More than just laundry detergent…clean & fresh with Egyptian musk, jasmine, lilac, peony, and citrus.
Ghostess  --  Parma Violets and lightly toasted marshmallow.
Ginger Ale  --  Cold, bubbly ginger ale.
Ginger Cream Café  --  A light-roast coffee flavored with sweet cream and gingerbread spices.

Gingerbread  --  Traditional gingerbread made with cinnamon, ginger, nutmeg, molasses, and a little brown sugar. Not as sweet as Honey Gingerbread Cakes. Discontinued.
Gingham  --  Fruity floral of lily, freesia, violet, clementine, apple, melon, vanilla, & musk (BBW Type). 

Goblin's Bride  --  Rose Petal Jam + Tea & Cakes.
Golden Sands  --  Black coconut, cassis, jasmine, gardenia, orange blossom, sandalwood, and Tonka bean. YC type. 
Grapefruit Ginger  --  Nice and tart. Grapefruit, ginger, and fruitwood. Discontinued.
Grapefruit JM  -- Grapefruit, tangerine, rosemary, pimento, jasmine, & peppermint.  Similar to Jo Malone "Grapefruit".
Grapefruit Mangosteen  --  Strong, citrus-y grapefruit and sweet, tart mangosteen.  A hint of peach, too. Discontinued.
Grapefruit Peach Gelato  -- Creamy gelato: grapefruit, peaches, tropical fruits, and a swirl of rhubarb. Discontinued.

Grapefruit Rosemary  --  Grapefruit, rosemary, citrus, lavender, & sage.  A sweet citrus & herbal blend.
Graphite  --  A softer cologne: sage, bergamot spice, lavender, sandalwood, moss, Tonka, and warm woods. BBW type. Limited Edition.
Grass Stain  --  Single note scent of fresh, green  grass.
Green Apple  --  Tart green apple with a bit of blossom. Discontinued.
Guava Peach Fizz  --  Sparkling fresh blend of guava, orange, and peach.


The (Hangover) Cure  --  Clean, crisp, and fresh – this will jump start your second wind! Lemongrass, lemon cypress wood, and lime.
Heavenly  --  White florals of peony, rose, hydrangea, cylcamen, and violet blended with golden musk, sandalwood, and vanilla. Inspired by the Victoria's Secret perfume. Discontinued.
Hit the Road, Jack  --  Sweet patchouli, sandalwood, vanilla, black pepper, citrus.  Compare to Lu$h Lord of Misrule.
Honey Gingerbread Cakes  --  Lightly spiced buttery gingerbread laced with honey. Discontinued.
Honey Pear Cider  --  Spiced pear cider sweetened with honey.
Honey:Clementine  -- Juicy sweet clementines  drizzled with orange blossom honey.
Honey:Honeysuckle  --  Honey and fragrant wild honeysuckle.
Honey:Patchouli   --  Honeycomb and patchouli with light notes of sweet candied fruit & lemon peel.
Honey:Provence   --  Rich honey with touches of star jasmine, violet, and orange blossom.
Honey:Toffee  --  Honey, flowers, fruit, and toffee. Compare to "Honey, I Washed the Kids" by "Lu$h".
Honeydew Melon  --  Sweet honeydew melon.
Honeysuckle Gardenia  --  A beautiful blend of honeysuckle and gardenia blossoms.
Huckleberry Muffin  --  Sweet, buttery muffins loaded with juicy huckleberries. Discontinued.


Iced Lemon Biscotti  --  Rich lemon biscotti with a creamy lemon glaze. 
Iced Vanilla Woods -- Clean, cologne-type lavender eventually mellowed by vanilla and warm woods (BBW type).
Incense & Amber  --  Oud wood, white woods, incense, spices, and amber.
Island Sunset  --  Coconut, cedar, and island blossoms. Compare to YC "Black Coconut".
Isle of Skye  --  Fresh mountain air from the Highlands! An ethereal blend of light juniper, mint, and vanilla.

Ivory Soap  --  Fresh Ivory Soap!
How to search the Scent List on your computer:  On the Scent List page, click "control+f" on a PC or "command+f" on a Mac. A search box will open at the bottom of the window. Type your search term in the box. Click "Highlight All".  Scroll down or click "enter" or "return" on your keyboard to jump from item to item. Specifics may be different for different browsers.
How to search the Scent List on your smartphone: Some browsers have a "Find in page" function in the page menu (an icon consisting of 3 vertical dots) which is often in the upper right corner. Tap "Find in page" and enter your search term. Specifics may be different for different browsers.