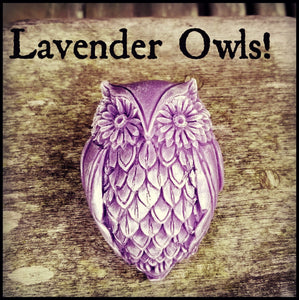 Lavender Owls (RTS)
Available scents are in the drop down list.

Each Victorian Owl contains approximately 2.7 ounces of finished weight wax.
Color and decoration may vary.
Limited quantity available.

See banner at the top of the Home Page for current Turnaround Times (TAT).
Lavender Owl Scents:
Lavender  --  The bracing scent of a fresh lavender plant in bloom. 
Lavender:Black Amber -- Amber, lavender, Tonka bean, Egyptian musk, patchouli, myrrh, and clary sage.
Lavender:Blackberry  --  Herbal lavender, sweet blackberries, bay leaf, vetiver, and cedar.
Lavender:Lullabye  --   A sweet blend of lavender, lilac, and mimosa.
Lavender:Manuka Honey  --  Lavender and bergamot blended with New Zealand Manuka honey.
Lavender:Nicotiana -- Lavender:Twilight blended with Tobacco Sugar.
Lavender:Pink Sugar  --  Lavender + Pink Sugar.
Lavender:Pink Twilight  --  Lavender:Twilight + Pink Sugar Blender.
Lavender:Provence  --  The scent of lavender blossoms.
Lavender:Rosemary  --  A sweet blend of lavender, sage, and rosemary.
Lavender:Stardust   --  Lavender, Pink Sugar, peppermint, and a touch of vanilla.
Lavender:Sugar Cookie  --  Lavender and sugar cookie. 
Lavender:Tassi  --  A clean lavender, similar to Tasmanian Lavender Essential Oil.
Lavender:Twilight  --  Sweet lavender, lilac, tonka bean, and ylang ylang. Compare to Lu$h Twilight.

Lavender:Woods  --  

A fresh, woodsy lavender with musk and light sage.