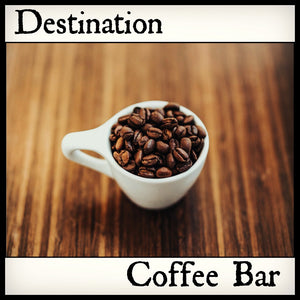 Destination Sampler: COFFEE BAR (RTS)
Regular price $22.00 Sale
Sampler of Scented Wax Melts ~~ Each Destination:Coffee Bar includes one Shot Cup each of 8 different scents. Limited quantity available.

Coffee Bar

Coffee:Black  --  Freshly brewed, slightly bitter, black coffee.
Coffee:Coco Kona Mocha  --  Rich Kona coffee with chocolate, vanilla cream, coconut, and a touch of cardamom.
Coffee:Epic Day  --  A blend of rich, dark coffee, cinnamon, clove, and pink peppercorns.
Coffee:Espresso Macchiato  --  Rich espresso sweetened with a dash of steamed milk.
Coffee:Hazelnut  --  Hazelnut coffee.
Coffee:Orange Vanilla  --  Light-roast coffee laced with orange and vanilla.         
Coffee:Peppermint Mocha  --  Dark coffee flavored with a perfect balance of fresh peppermint and chocolate.

Moonspice Cookie --Sugar cookies, coffee, and Celtic Moonspice.

- The Shot Cups in each Destination are grouped together and packaged in a labeled polypropylene bag tied with decorative ribbon. Ready for gift-giving!

- Shot Cups weigh approximately 1.5 ounces each, polypropylene cups. Colors may vary.



Photo credit: nathan-dumlao unsplash