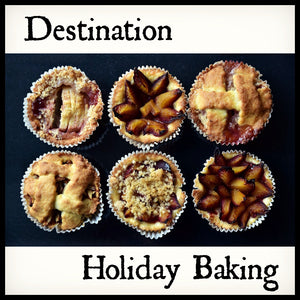 Destination Sampler: HOLIDAY BAKING (RTS)
Regular price $16.50 Sale
Sampler of Scented Wax Melts ~~  Each Destination:Holiday Baking Sampler includes one each of 6 rich bakery scents. 
Limited quantity available.
Holiday Baking
Cranberry Pumpkin --  

Baked cranberries and pumpkin - sweet, rich, and lightly tart. Inspired by the BBW candle.

Frosted Sugar Cookie  --  

Frosted Sugar Cookie!

Petit Fours  --  

Tiny vanilla cakes filled with buttercream frosting and coated with creamy white icing and nonpareil rainbow candy sprinkles. Takes a little while to get going but lasts a long time!

Pistachio Almond Cookie  -- 

 Pistachio and almond cookies warm out of the oven.  A 4-week cure time is recommended.

Plum Tart  --  Warm baked tart with a jammy-rich filling of plums, oranges, cinnamon, and vanilla.
Pumpkin Puff Cookie  --  Buttery, puffy, pumpkin cookie with spicy cinnamon, clove, and nutmeg.
- The Shot Cups in each Destination are grouped together and packaged in a labeled polypropylene bag tied with decorative ribbon. Ready for gift-giving!

- Shot Cups weigh approximately 1.5 ounces each, polypropylene cups. Colors may vary.