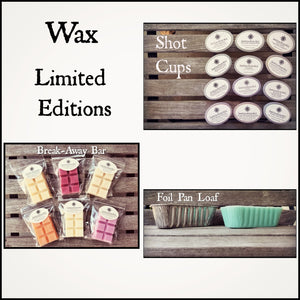 Limited Editions (RTS)
These are scents that are being discontinued or are here for a limited time!


Limited quantities available in various shapes.
Autumn Campfire--  Dried autumn leaves crackling in an outdoor campfire. Discontinued.
Autumn Walk  --  Crisp autumn leaves, fresh air, forest berries, pine, cedar, and aspen. Discontinued.
Basil, Sage, & Mint  --  Herbal blend of basil, sage, and bit of mint. Discontinued.
Bonfire  --  Autumn Walk sweetened with Bonfire Bliss. Discontinued.
Candy Cane Frost --  Sweet, creamy vanilla mint candies. Discontinued.
Celtic Moonspice --  Classic blend of cinnamon, clove, and nutmeg. Discontinued.
Charcoal Tonka --Smoked tonka bean, cedar, black pepper, patchouli, spices, and a touch of vanilla. Discontinued.
Cinnamon Bayberry -- Cinnamon, bayberry leaves, pine, and sandalwood. Discontinued.
Frasier Fir-- Siberian Fir, cedarwood, and sandalwood. Thymes "Frasier Fir" type.
Gingerbread  --  Traditional gingerbread made with cinnamon, ginger, nutmeg, molasses, and a little brown sugar. Not as sweet as Honey Gingerbread Cakes. Discontinued.
Lavender:Cedar --  Lavender, cedar, and rosemary. Contains essential oils. Limited Edition.
Lavender:Coconut  --  French lavender blossoms, coconut, coconut blossoms, and cedar. Discontinued.
Lavender:Milk --  Cozy blend of lavender, bergamot, lemon, tonka bean, and musk. Limited Edition. 
Lemon Peppercorn -- Lush, rich mixture of black peppercorns, warm spices, and lemon. Discontinued.
Lime Sugar  --  Soft lime, anise, hazelnut, sugar, musk, and rose...similar to Pink Sugar but with lime instead of raspberry. Discontinued.
Pink Sand Beach -- Similar to YC "Pink Sands".  Fruit, flowers, and a splash of coconut cream. Discontinued.
Pistachio Pudding Cake--  A fluffy pistachio pudding cake. 
Vegas Showgirl    --   Dishy blend of melon, pink flowers, coconut milk, and leather. Discontinued.
Wild Mint & Ivy -- Refreshing, clean scent of light mint and fresh ivy.  Discontinued.
Wildberry Mousse--  Rich and fruity berry-fig-vanilla mousse. Discontinued.
ZB Pumpkin  --  Zucchini bread with sweet pumpkin and spices. Discontinued.

 
Shot Cups are approximately 1.5 ounces of finished weight wax.

Break-Away Bars are approximately 2.6 ounces of finished weight wax.

Foil Pans are approximately 11.75 ounces of finished weight wax.